4 Songs in Chinese 聯篇曲
Score & Music Videos
《聯篇曲》:《相思苦》,朱淑真《山查子》,李清照《声‭声慢》,李白《月下獨酌》
Bitter Taste of Love ⁕ Haws ⁕ Sounds Slowing ⁕ Drinking Alone
1st, Bitter Taste of Love《相思苦》
On Choi May-Chu's line art. I wrote the words (full of cliché but fit the melody well)
第一首注重蔡美珠的線條加彩色畫。曲詞我寫,寫得一無是處但能配合旋律。
2nd, Haws 《山查子》
On Choi May-Chu's watercolour/ ink painting. A popular poem by a woman poet (Song Dynasty) and obviously about an affair – a taboo subject then in China.
注重蔡美珠的的水墨水彩, 這首朱淑真詞,人人會背吧。
3rd, Sounds Slowing 《声声慢》
On Choi May-Chu's traditional Chinese paintings and watercolour. The poem was by China's most revered woman poet (Song Dynasty).
第三首注重蔡美珠的國畫和水彩。這首李清照詞如此有名,不用我多言了。
4th, Drinking Alone Under the Moon 月下獨酌(李白)
在第四首我比較注重蔡美珠國畫和抽象方面的。李白詩仙的詩,人所共知,不需要我介紹了。This is more on Choi May-Chu's Chinese paintings and abstract art. The poem was by Li Bai (Tong Dynasty). His works were integrated in Mahler's Das Lied von der Erde. Li Bai drowned trying to grasp the moon's reflection in the river from his boat while drunk.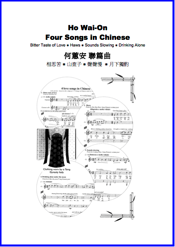 Audio recording of the proper Chinese pronunciation of the 4 poems, read by Jiang Hua (姜華), BBC Chinese Service 曲詞正確讀音:
Performed by Nancy Yuen (soprano) and Philip Edwards (clarinet). Jane Webster narrates.
The 6 videos are not completely identical, even if there seem to be some repeats.
I reconnected with my old classmate Choi May-Chu around Christmas 2017. Though we associated with different groups of friends, we had a mutual admiration. I remember her beauty, and talents in calligraphy/painting… and these videos are to show her beauty and talents. As I used mostly of her old works that are not related to my music and the words, I needed to look at her works for a long time until I had inspiration in how to cut and modify them (she kindly allowed my complete freedom). I also added in and modified my own video clips to match hers.
演出者: 女高音 阮妙芬,單簧管 菲臘愛德華氏, 珍韋斯特朗誦。
我做了這一組中文詩詞的的四個音樂視頻,有一個目的是讓人看到真光舊同學蔡美珠的美好。因為大部分用她的舊作,都是與我的音樂和曲詞無關的,我需要把她每張舊作看了又看,起碼看幾星期,才會有靈感想到怎樣去裁剪修改和加上一些我影的,使各種素材融合成新的藝術生命。
Though the PDF score here is for soprano and clarinet, the songs can be sung by lower voices and accompanied by clarinet, cor anglais, flute or Chinese flute (see suggestions in the score).
This is a song cycle inspired by the pangs of love (also called Four Love Songs in Chinese). I wrote the words of the first song. The rest are famous poems from the Song and Tang Dynasties. I wrote melodies inspired by the sound/meaning of the words. Though my professional musical training was Western Classical, as a small child in Hong Kong my first impression of music was Cantonese opera - a performer would modify the melody/rhythm according to the sound and meaning of the words, and the accompanying instrument flexibly imitates/follows the singing. I have heard free renditions of existing music (e.g., Purcell's Dido and Vivaldi's Four Seasons) by Western Classical musicians, but I have yet to come across free rendition as dominated by the lyrics. I think this might due to the importance of harmony in Western Classical – certain notes have to come together vertically at a certain time, while my song cycle was about two lines (vocal and instrumental) flowing freely horizontally. Though the songs sound Chinese pentatonic, there are notes outside the scale and glissandos. Pitch fluctuation and tuning outside the well-tempered scale is also a characteristic of the music I heard as a child. Traditional Chinese music in Western notation often looks simplistic and is not a true picture of the real sound. Perhaps the flexibilities in rendition…etc., as mentioned above, explain some of the reasons.
More info & cultural background: download Music is Happiness CD book in PDF format and see pp.16-21.
愛情的傷痛是作曲的靈感,古人的詩詞道出我的感受,第一首曲詞我寫,其餘用朱淑真、李清照和李白。四首曲道出四個階段的傷痛。雖然我的音樂專業訓練是西方古典音樂,但這聯篇曲的作法受到自小聽到的粵曲的影響。除了女高音伴以單簧管,亦可以由較低音域的歌者伴以英國管或笛子和中國簫笛來演出,請看曲譜提示。
FOUR SONGS IN CHINESE (no narration) 聯篇曲(無朗誦版)
Comment: "The songs are so melancholy, they have left me feeling quite subdued!" - Margaret Morley, RAM alumna, sister of John David Morley.
FOUR SONGS IN CHINESE (with narration) 聯篇曲(有朗誦版)
This version is meant for a concert setting with an English speaking audience.
Comment: "Just had a look/listen to your 'Drinking Alone' piece. It's an interesting amalgam of the images, voice and music. The voice has a distinctive sound - but I don't know enough to understand it fully - sort of chino-operatic. Please forgive me if that is totally sacrilegious - but I do like that haunting sound - combined with those cosmic images". - Vivien Finch: Suffolk and Essex coastal dweller, music amateur, teacher, memoir writer and London JP... charities - Canine Partners, Medical Detection Dogs (making huge strides in cancer detection) and Dogs Trust (biggest rescue and re-home charity in UK)
Comments:
"This week is hectic but I just took a moment off to watch your video which I think is very beautiful, both music and words, although I am sure the words are more evocative in Chinese than a rather mundane translation." - Margaret Morley (see above)
"Now, most important. I absolutely loved Sounds Slowing - the music, the imagery and language. Taken as a whole, it is beautiful - but beautifully morose and bleak. Always a paradox." - Vivien Finch (see above)
At the bottom of this page is the earliest recording of this work for soprano and cor anglais performed by Kathryn Harries and Jane Mitchell.
The Earliest Recording of 4 Songs in Chinese
It was for soprano and Cor Anglais and sung by the Welsh soprano Kathryn Harries and accompanied by Jane Mitchell. This is a very old recording, the sound has deteriorated a bit and may not do them both full justice. I was impressed by Kathryn's willingness to sing in Chinese which was unusual at the time. When I first heard the recording I was impressed by the purity of her voice that reminded me of early music and seemed very apt for this particular work. Later on Kathryn Harries made a very successful operatic career including singing Wagnerian repertoire.
I may upload other recordings by other sopranos singing various combinations when I can find/restore performances by Nancy Zi and Pamela Ryker (flute), Lisa Nolan with Geoffrey Elkan (clarinet), and one for soprano with Chinese flute.
以下是我作的《聯篇曲》最早的録音,由威爾斯女高音嘉芙蓮夏里氏用國語唱,珍美曹氏伴以英國管,那時候在英國罕見非華裔的音樂家肯花時間學國語來演唱的,後來她成為成功的歌劇演唱家,包括唱華格納歌劇的女主角,這録音帶受到時間侵蝕,有點變質了。還有其他的録音:香港女高音徐美芬(由笛子伴奏),澳洲女高音麗莎諾蘭唱的,和有用中國簫伴奏的,能找到和修復再上傳吧。