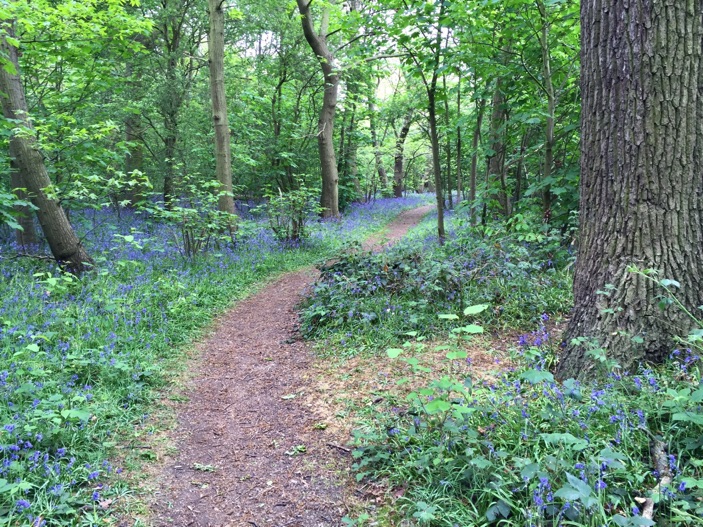 Belhus Woods Ancient woodland & bluebells
貝勒斯這古老樹林內草林叢生和有很多藍鐘花
Click the above to enlarge the panoramic view then use browser's back button to return to this page
可點擊以上照片放大,然后用瀏覽器的後退按鈕返回此页。

It is a seaside resort with the longest leisure pier in the world, and a variety of entertainment and amusement areas. When I first visited many years ago, I felt that the touristy places not quite my cup of tea, but there is also an aquarium, a museum, and some cultural venues. There are some art installations and gardens. When the weather is good, walking along the coast and watching the sea is quite nice.
是海濱渡假勝地,有世界上最長的休閒碼頭,和比較經濟的各式娛樂和游樂埸,第一次來時覺得多游客的地方有點俗氣,但亦有水族館博物館文娛埸地,近年來添加了些藝術裝置和花園,天氣好時,沿岸漫步看海也是不錯的享受。
Wat Tyler
A country park named after the leader of the 1381 Peasants' Revolt
和泰勒是以1381年農民起義領袖的名字命名的郊野公園

A wildlife garden surrounding a water lily pond 野生動植物花園圍繞着睡蓮池
Apart from the Royal Society for the Protection of Birds Wildlife Garden, Wat Tyler is a good place for country walks. The following photo gallery contains images captured during my visit. Click to enlarge.
除了皇家保護鳥類協會的野生動植物花園,和泰勒是郊遊散步的好地方,以下圖庫是我到此一遊時影的
請點擊細圖放大
Hanningfield Reservoir 漢寧田野水塘
Hanningfield Reservoir is a nature reserve that offers beautiful walks through the woodland. Fishermen can take boats out at Hanningfield Waterside Park that is well-known for still water trout fishing.
漢寧田野水塘是自然保護區,多季鳥,有美麗樹林,其水上公園多鱒魚,捕漁人可在那兒租船捕魚。
Numbers of wildfowl use the reservoir in the autumn and winter (best view full screen)
有各種水鳥隨着季節來這水塘棲息(以上適宜全屏觀看)
Wildfowl include Gadwall, Tufted Duck and Pochard... I only saw some of them on my visit. 這是我見到的一些候鳥。
The nature reserve offers some beautiful walks through the woodland, taking in bird hides, ponds and views across the reservoir (best view full screen).
這兒有穿越樹林的小徑供遊人散步,途中有用來讓人靜靜地觀察野鳥的小木屋,池塘,和可以看到水塘的景色(以上適宜全屏觀看)。
Apart from the three videos above, the following photo gallery contains some more images captured during my visit. Click each to enlarge
除了以上三個視頻,以下面照片庫是我在遊漢寧田野水塘時影的,點擊細圖放大。
Bradwell-on-Sea 伯拉德威爾海岸
A coastal easy walk with some interesting features along the way: marshy nature reserve, seawall, grassland, famous chapel, some World War II memorials, and sailing club activities.
伯拉德威爾海岸平坦易行,沿途可見沼澤自然保護區,海堤,草原,著名古老教堂,二戰紀念景象和帆船俱樂部活動等等。
Rather windy - no wonder there are wind turbines. The inactive nuclear power station is in view on L.
風很大,難怪有風力發電機。遠遠望見已停止運作的核子發電廠(在左邊)。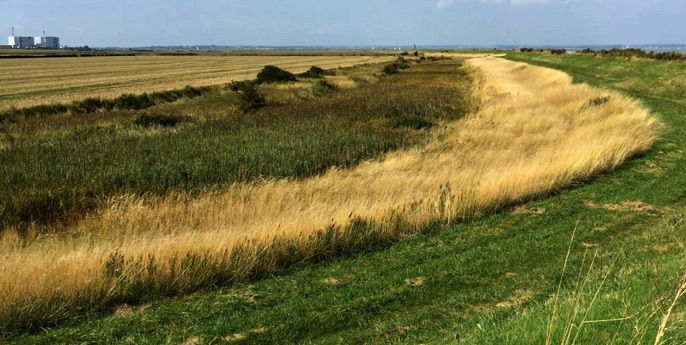 My iPhone fails to capture the vivid colour of the grassland that remind me of Van Gogh's wheat field paintings. The nuclear power station (on L) is now more visible.
草原色彩使我想起了梵高的麥田畫,可惜我的手機捕捉不到那濃烈鮮豔的色彩。左上角是核子發電廠。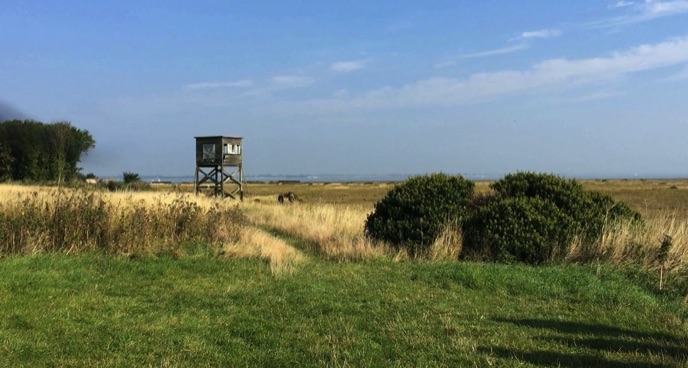 A bird hide in the middle of grassland. Chapel of St Peter-on-the-Wall, one of Britain's oldest churches, is nearby.
草原中有一間用來觀鳥的木屋,英國最古老的教堂之一就在附近,教堂沒有廁所,實在有需要只可以到叢林找隱閉處方便了。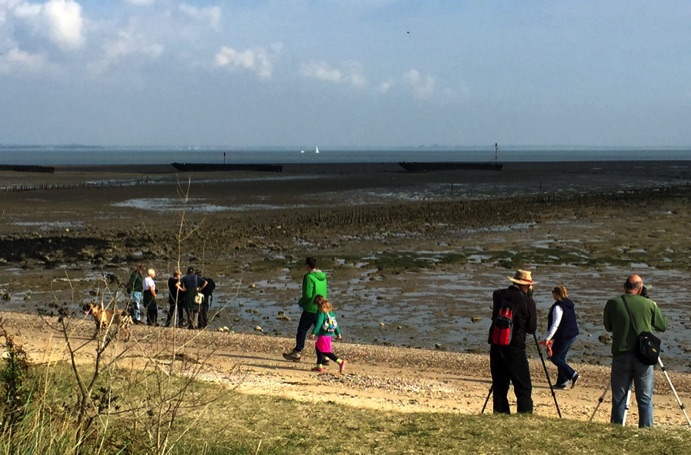 Marshes nature reserve 沼澤自然保護區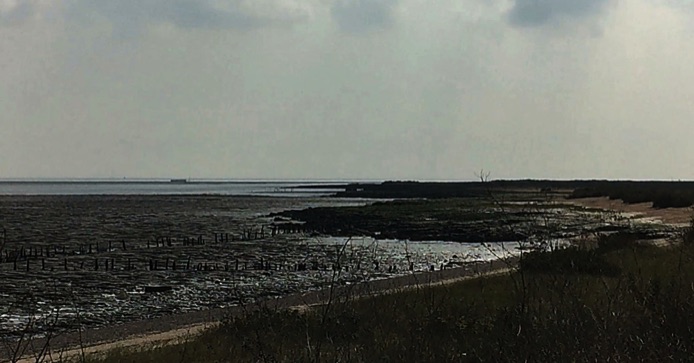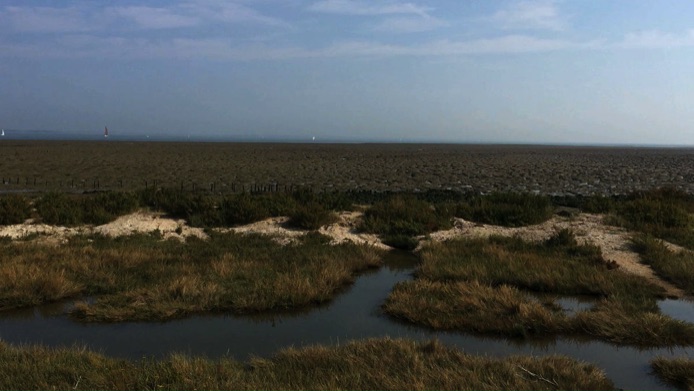 The beach at low tide - looking rather bleak. 退潮時的海灘,很蒼涼。
Bird watching - lots of birds come to feed at low tide - such as cockles
英國人愛觀鳥,退潮時有很多鳥類來啄食海灘上的貝類,例如鳥蛤。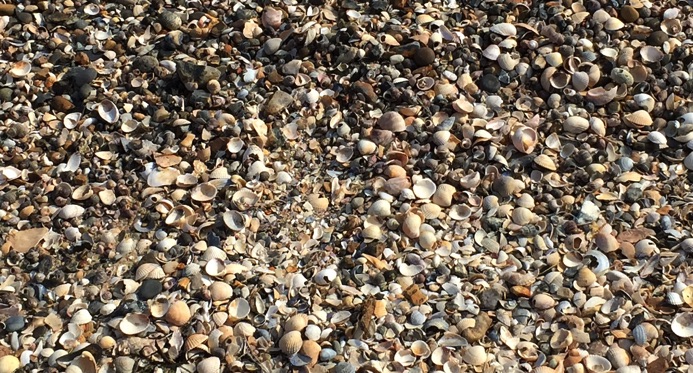 The vast amount of broken cockle shells on beach remind me of the deaths of 23 Chinese cockle pickers 10 years ago who were searching for a "better life" but were exploited by human traffickers.
海灘上大量破碎的鳥蛤殼使我想起十年前23名非法入境的中國人,因拾鳥蛤被淹死。他們以為非法來英可以尋找"美好生活",怎知却被同胞利用剝削做非法勞工,更因忽畧他們的安全以致發生了鳥蛤慘案。
Gentle waves moving towards the shore with a bird flying 柔和波浪向岸推進和飛鳥
Light affecting clouds and water. 不同光影下的雲和水。
Glimmering grit and muddy puddles 閃爍的沙粒和泥濘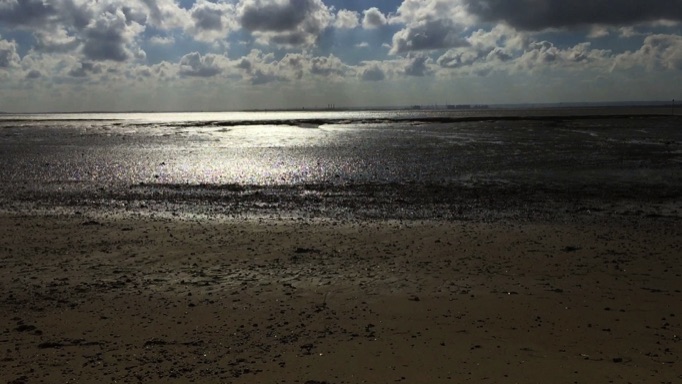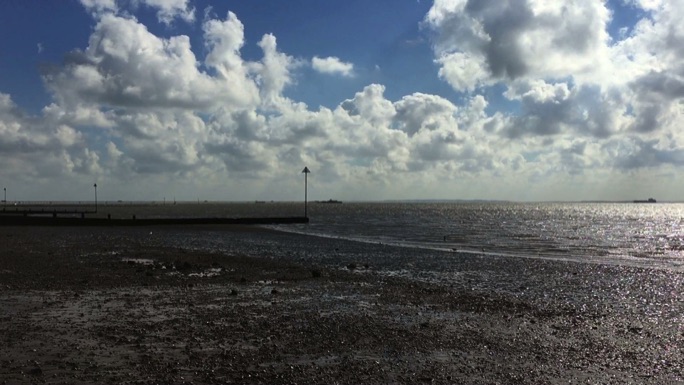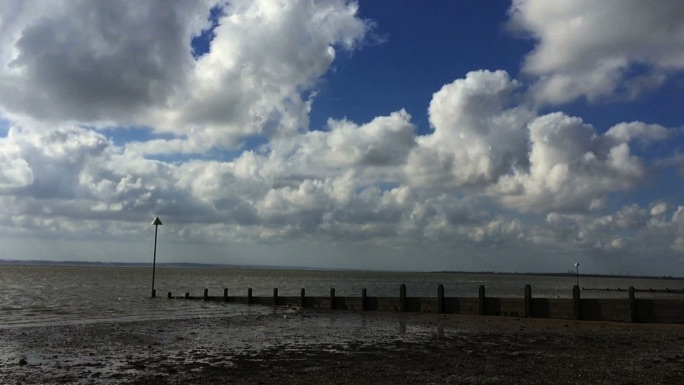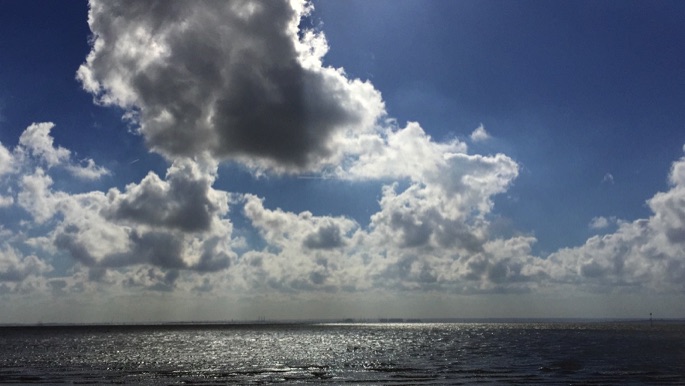 On a sunny day one can probably have a glimpse of Kent?
天氣睛朗時,可能會望見少少對岸的肯特郡?
Click images in galleries to enlarge 點擊細圖放大