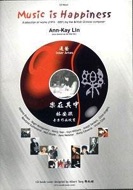 Music is Happiness
CD & book
《樂在其中》 音樂光碟和冊子
16 August Update 8月16日更新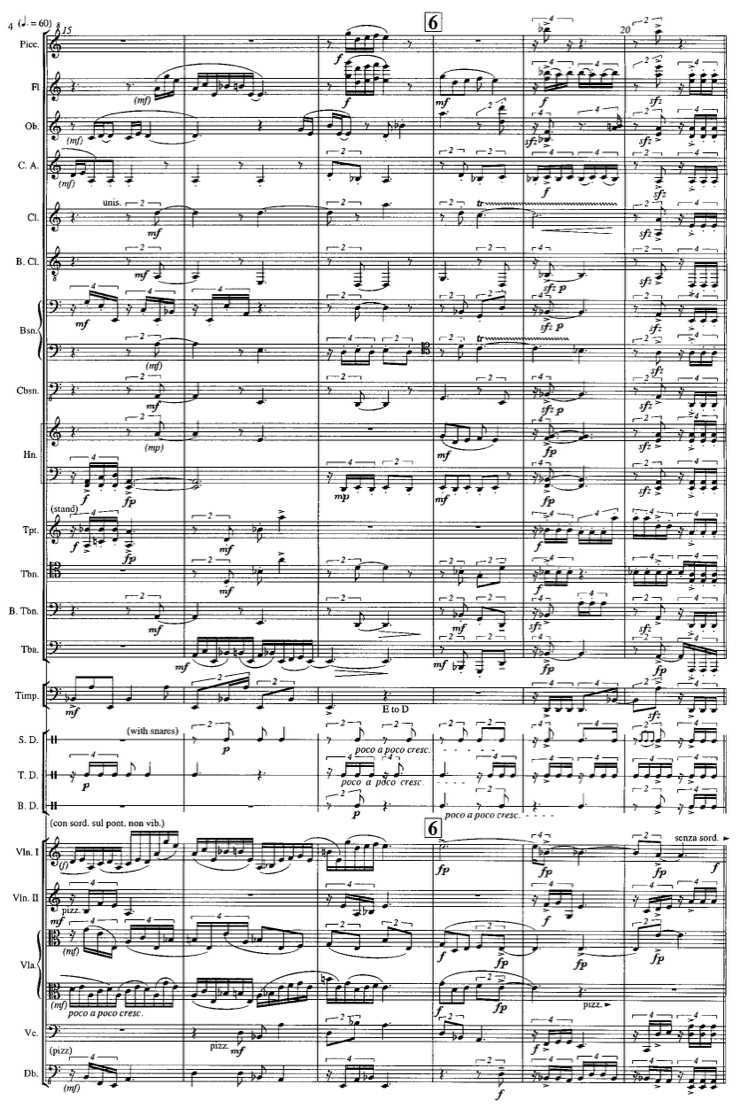 4. Dr David Tong Remembered
懷念湯大維醫生 和《遊子之歌》
SONGS OF THE TRAVELLERS
Dr David Tong was one of my cancer consultants at Guy's and St. Thomas'. Cancer was a traumatic experience, and I had been to various hospitals and seen by many medical professionals. Some, though kind, could be of few words and even taciturn. Dr. Tong was willing to spend time to talk to patients. He even set time aside for patients who wanted to talk with him. He was kind to me when I was needy. Because he was so kind and sympathetic, at an appointment I suddenly burst out crying, thus releasing bottled up fear, anger and grief — I usually find it hard to cry for myself though I can cry buckets for others. His wife Beryl was also very kind to me. I visited them at their home, and they visited me. We went to see performances and to eat. I also get to know Beryl's sister Joyce.
湯大維醫生是我醫治癌症時的顧問大醫生之一,癌症是創痛的經歷,我去過多家醫院,見過很多醫生,儘管有些醫生很好,但可能由於太忙而說話不多,甚至有沉默寡言的,但湯醫生很願意和病人談話和解答疑問,他甚至特別撥出時間見那些想與他談話的病人,他很了解那時候我非常需要醫生的關注,有次他臨診和我談話時,因為他對我如此明白了解和同情,我突然大哭起來,這樣釋放了我一直藏在心裏的恐懼、憤怒和傷痛的情緒,我通常是不會為自己的處境和難受而哭泣的,儘管我很容易因見到別人的淒慘而被感動哭泣。他的妻子貝瑞爾亦對我很好,我拜訪他們,他們亦探望我,我們一齊去看表演和吃飯,我也認識了貝瑞爾的姐姐,彼此交往。
When I started working on my Music is Happiness CD & book project after surviving cancer for the 2nd time, as Dr Tong wrote poetry, he wrote lyrics for Magic Banyan Tree. This was the last piece to be included in the CD, which I later made into a music video (see link below). Jokingly, he said I should credit him in the video as David Brailsford Tong, or people would think he's Chinese, came from Hong Kong and was my cousin. He said he was actually of Norman stock. He said though Tong is an old English name, he was often mistaken as Chinese, and in his youth — a time of less politically correct awareness this was sometimes an disadvantage for his advancement. When Magic Banyan Tree was performed at Trafalgar Square's Chinese New Year Celebrations, in the presence of the London Mayor Ken Livingstone, the Lord Mayor and the Chinese Ambassador, he gladly attended on stage to be acknowledged as the lyricist (see link below). He also wrote poems for Permutation and Tai Chi, two other pieces included in the CD, which were beautifully narrated by Jane Webster before the music (see links below).
第二次從癌症倖存後,我開始籌劃創製《樂在其中》CD和小冊,因湯大維醫生喜歡寫詩,他為CD排在最後的那首《神奇老榕樹》寫歌詞,後來我把《神奇老榕樹》製作成音樂視頻(鏈接如下)。他開玩笑地說,我應該在視頻中把他的名字按照音譯寫,說作曲詞的叫做大維·布拉斯福德·湯,否則人們會以為他是華人、來自香港和是我親戚。他說他其實是十一世紀佂服英格蘭的諾曼人後裔,儘管"湯"是英國人的一個古姓,由於拼法和華人有些姓氏,如湯和唐是一樣的,他常被誤會是華人,在他年青時,這種誤會曾令他的晉升不順利。《神奇老榕樹》在倫敦鸽子廣場的農曆新年慶典演出時,大倫敦市長、倫敦市市長和中國大使都光臨,湯醫生高興地坐在台上,被介紹是該曲寫歌詞的人(相片鏈接如下)。他還為《樂在其中》CD的另外兩首曲:《排列變化》和《太極》寫詩,在樂曲演奏前由珍·韋伯朗誦,締造氣氛(鏈接如下)。
Links 鏈接:
Magic Banyan Tree《神奇老榕樹》video 視頻
Magic Banyan Tree《神奇老榕樹》Trafalgar Sq. photo 鴿子廣埸演出照片
Permutation《排列變化》poem narration 詩的英文朗誦
Tai Chi《太極》poem narration 詩的英文朗誦
Dr Tong also dedicated some poems to me. When I had cancer for the third time, during the time between two operations, I used these poems as lyrics to quickly write a large scale work for one to two sopranos with symphony orchestra, so as to take my mind off the impending major operation. It is called Songs of the Traveller (or Travellers if there's funding for two sopranos). Though I used software to generate a midi playback recording of the work for Dr Tong to listen to, I knew all these years he had wanted to hear the work performed in a concert hall. Well, it's not easy to get a non-commissioned large scale work performed, and I haven't even tried. It was difficult to cope with the aftermath of having cancer three times, let alone many things that went terribly wrong.
湯醫生還寫了幾首詩獻給我,當我第三次癌症時,在兩次手術之間的時間,我用這些詩做歌詞,很快便寫成一首包括了獨唱的大型交響樂團作品《游子之歌》(如果夠錢就用兩位歌唱家來合唱),我把心思都放在創作,這樣就不會去想那可怕的,即將來臨的大手術。第三次癌症過去後,儘管我使用電子樂器裝置來演奏樂譜,用器材和軟件製成錄音,好讓湯醫生能聽到這曲,但我知道這些年來,他一直想聽的,是《游子之歌》在音樂廰的演出。但是,沒有被委託而作的大型作品,是極難有演出機會的,我也沒有去嘗試尋求演出的機會,因為除了三次癌症的一些後遺症狀,我身體不好还要應付頭頭踫着黑的情况。
Songs of the Travellers was a large scale work written in a very short time and inevitably needs some revision. It was copied with the Sibelius Acorn version. When I was reasonably well to look at the work again, Sibelius software has changed hands and Acorn had packed up. It was necessary to think about whether to buy a Mac or Windows computer for new Sibelius. I finally bought a computer that I could ill-afford, but I was not well and did not use it for a while. By the time I tried to use it, I found I had bought a computer with problems and the guarantee had expired. After ill-afforded time/money spent on fixing the computer, it was a struggle to learn a completely different system and new terms... and I was crestfallen to find that new Sibelius had problems reading my scores copied with the Acorn version. Simple scores fared better, but complicated scores carefully copied with lots of details are all over the place, e.g. some details appeared miles away, some instruments became something else, spacing all mucked up... I sent these scores to the new Sibelius, though they could cure some, but those that mattered to me were not amongst the rescue, and that includes Songs of the Travellers. I tried Forums etc. for advice but to no avail, and most annoyingly, was not being believed by some as they blindly believe the technology invincible. Basically I need to more or less recopy the work with new Sibelius. Though from time to time this work crossed my mind, and Dr. Tong would remind me of the work, I just can't face the work of recopying more than 70 pages of symphony orchestra score — below this article is a page of this work (copied with Sibelius Acorn version) and you can see what I mean.
《游子之歌》是我在很短時間寫成的大型作品,無可避免地需要做一些修改才能出街。這曲我是用Sibelius軟件早期版本抄譜的,當我體力回復到可以做點工作,想修改一下《游子之歌》時,Sibelius軟件公司已經易手改組,而我特別為了用這抄譜軟件而買的電腦,那間電腦公司也執笠了,為了使用新的Sibelius軟件,我需要考慮購買Mac還是Windows電腦,想了一輪,結果買了一頗貴的電腦,因為身體不好,好一陣子沒使用,到我身體好些去用這新電腦時,却發現買了架問題電腦,而且保修期已過,花錢和時間來修理後,發覺學習一個完全不同的電腦系統和新術語很是吃力,最令我感到沮喪的是,新Sibelius軟件,在展示我用舊版本抄的樂譜都有問題,簡單的樂譜還可以,但那些比較複雜的樂譜,尤其是那些我用了很多心血抄得靚靓的,和寫上許多細節的樂譜,都變得一團糟,面目全非,例如應該在頁頭出現的音樂符號會去了頁尾,樂器錯位,線譜間的距離被改變,有些地方變成一片空白…我把這些樂譜發去給新Sibelius公司修正,儘管有一些樂譜被修正後比較好些,但那些對我而言是重要作品的樂譜,却只是能夠作部分修正而矣,這堆被拯救無效的樂譜,包括了《游子之歌》,我嘗試在Sibelius軟件論壇尋求幇助,但無濟於事,有些人甚至不相信Sibelius軟件公司會是無能為力的。那就是說,我需要重抄全首《游子之歌》的樂譜。儘管時不時我會想起這作品,而湯醫生又時不時會提起這作品,但我實在無法面對要重抄超過70頁的交響樂樂譜的工作,本文下方是《游子之歌》的一頁(用Sibelius軟件舊版抄的),你看看多複雜,就能明白為什麼我不能面對了。
Time went by... Beryl died, and then I received a card from Dr. Tong's children. Dr David Tong, after coping bravely with Parkinson's decease for years, died of COVID-19, and coincidentally on my birthday. Should this be a push for me to fulfil his wish of getting Songs of the Travellers performed, or at least revised and properly copied?
時光飛逝…湯醫生的妻子貝瑞爾去世了,最近我收到了湯醫師孩子們寄來的咭,告訴我湯醫生勇敢地應付着帕金森病情多年後,却死於新型冠狀病毒,他去世的那天恰巧是我生日。這是否能成為一種動力令我實現他《游子之歌》演出的願望,或至少把這曲好好重抄和俢正完成吧?
A photo of Dr David Tong taken by me 我影的湯大維醫生照片:
The following is a page from the score of Songs of the Travellers
以下是《遊子之歌》樂譜的其中一頁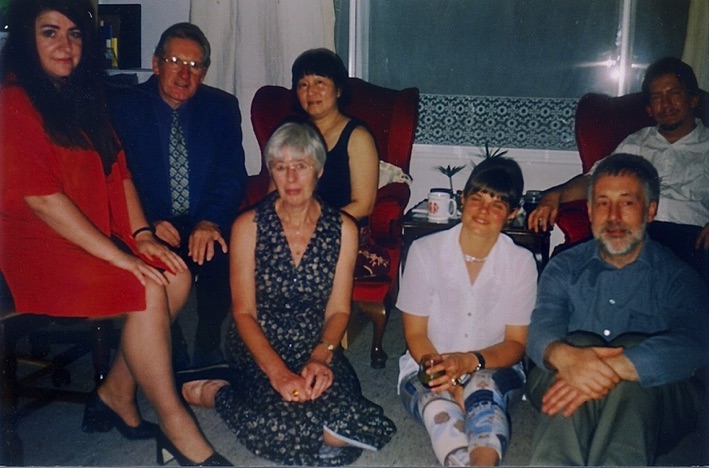 PHOTO: Second L, Dr. Tong. Third L, his wife Beryl. Photo taken when they came to my place for a dinner party. 上圖左二:湯大維醫生,左三:他的妻子貝瑞爾,他們來我家晩餐聚會。