Scores page 2 樂譜/乐谱 2
More to come 更多將陸續上載
For a printed & bound copy of my music please use Contacts
Below are my scores in PDF format 点擊以下藍框形象看樂譜
Tai-Chi for flute & guitar 《太極》 笛子和結他合奏
This was commissioned by Lucy Cartledge and Nicholas Hooper to be played at the Edinburgh Fringe Festival. I needed to submit a title before I had even written the piece for the festival programme. As Nicholas was practicing this martial art, I jokingly called it Tai-Chi. Though my cat Mao-Mao did not like this piece, Lucy and Nick liked the piece and have performed it at many venues. Later one of my cancer consultants, Dr. David Tong of Guy's & St Thomas', wrote a poem for this music. In this recording the poem is narrated by Jane Webster before the music.
有一夫妻檔的笛子和結他演奏家,委託我作曲給他們在愛丁堡藝穗節首演。那弹结他的老公打太極拳,我湊趣地把此曲取名《太極》。雖然我的貓貓似對這首曲表示怕怕(請參閱貓貓和音樂),這夫妻檔却喜歡,他们在很多地方演出此曲。其後放療專家湯大衛醫生為此曲作詩,以下的演出錄音包括了這首詩的朗誦。
Jane Webster narrates
Lucy Cartledge flute
Nicholas Hooper guitar
The music reflects the movement of this martial art, and also Yin and Yan opposing and complementing each other.
音樂表達太極拳的動作,和隂陽生剋。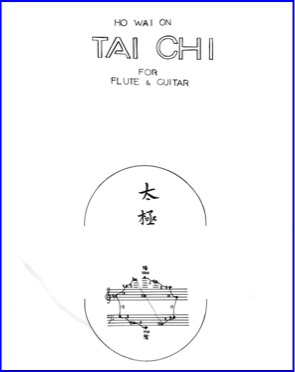 3.10 am for viola & guitar《零晨三時十分》中提琴和結他合奏加念白
This was based on extracts of a poem I could not make head nor tail of but I dramatised it. It was written for London Arts award-winning young performers of the year. In this case for William Waters and Norbert Blume. I was in my rebellious youth and aimed at breaking barriers. When the work was completed Norbert appeared to be put off by my notation method and didn't want to play it, so it was played by Richard Muncey. The poet asked me not to name him because the piece is so different from the nature of the poem. When the music critic Brigitte Schaeffer came for the performance, she mistakenly thought the concert started at 3.10 pm and hence missed the performance! When the work was broadcast in Hong Kong, I did not give it any programme notes and was surprised to hear the presenter describing the piece as about the aftermath of a nuclear war! Also, because I used rather unusual graphic notation, the guitarist John Schneider included an image from it in his book on guitar music.
我需要為一首我不知道是講什麼的詩作曲,便摘錄了其中一些句頭句尾來戲劇化了。這是為榮獲倫敦藝術局年度演奏家的音樂會寫的,要寫一首中提琴和結他合奏。那時候正是我叛逆青年時期,作曲手法前衞和嘗試突破,曲作好後,那中提琴演奏家似被我的圖式記譜法和需要念白嚇怕,不肯奏,只得換人。那作詩的亦因音樂和他的詩大異其趣,不讓我說出他的名字。此曲在倫敦午間樂會演出時,有位著名樂評來聽演出,因曲名《零晨三時十分》,她誤會了,以為音樂會在下午三時十分開始,因此錯過了演出!當這首曲在香港播出時,我沒有給電台任何相關資料,却聽到節目主持人描述這首曲是表達核戰的後果,令我感到很驚訝!因我在此曲使用了頗不尋常的圖形和符號記譜,有一吉他演奏家在其著作關於吉他音樂的書中,加入了此曲的圖像。
Richard Muncey viola & speech
William Waters guitar & speech
李察孟氏:中提琴和念白
水威簾:古典結他和念白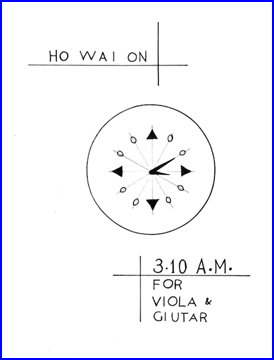 Study on Thirds guitar solo 《 三度練習曲》 結他獨奏
This was specially written for William Waters.
特別冩給結他演奏家水威廉,以下錄音是他演出此曲
William Waters guitar
水威簾:結他獨奏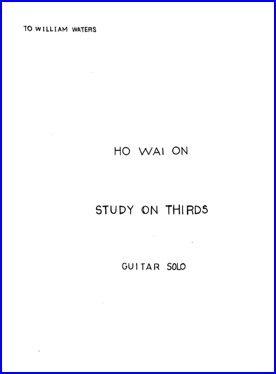 Tremolo, & Melody guitar solo 《顫音》和《旋律》结他獨奏
These two short pieces were written for Gerald Garcia
(Arts Council commission).
兩首英國藝術局委托我寫給謝家齊的結他短曲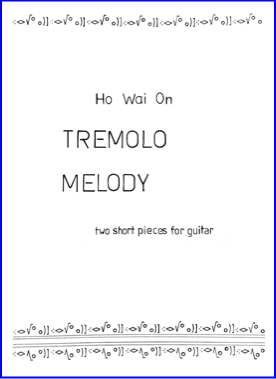 Pentatonic Study for two pianos 五音練習曲 鋼琴二重奏
A very long time ago, Helen and Eleanor Wong asked me to write a short piece for two pianos for them to be performed at a conservatoire in Canton – I met them when I was a student at the Royal Academy of Music. The piece is called Pentatonic Study.
I prefer the Japanese pentatonic scale (do mi fa la ti) which has the augmented 4th and minor 2nd intervals (watch Sakura Variations). Chinese pentatonic (do re mi sol la) appears lacking in dissonance. As a small child in Hong Kong, I encountered Cantonese opera and noticed performers employing non-well tempered tuning, tone fluctuation, glissando ... and freely modifying existing music of any genre to make it their own. All these liberated Cantonese opera from the confines of Chinese pentatonic. When I compose pentatonic music I prefer writing for the voice and/or instruments that can bend pitches (watch Four Songs). At the time of writing the work, few Western Classical musicians would modify existing music to make it their own. The piano is well-tempered. A way to expand the sound from this restriction is using the sustaining pedal liberally and long pedalling, allowing all strings to vibrate in sympathy creating nuances akin to water colour. Also, I allow freely changing the tempo and rubato for personal expression. Instead of finding two matching pianos I would encourage the use of two pianos of different qualities, even to include a prepared piano to add contrasts. The markings in the music are only suggestions and can be ignored to explore your own. If you would like to use my score as a prototype to re-create, I would be delighted to hear a recording of the result.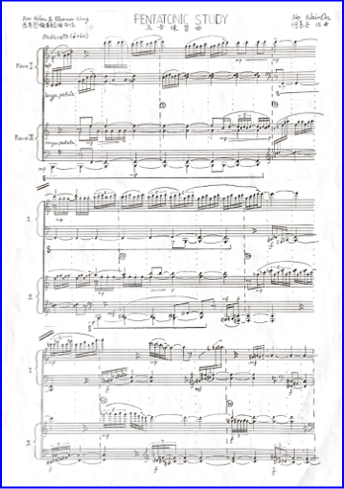 寫給黃慰倫黃懿倫姊妹。
五音調(1一2一3一5一6)似缺乏不和聲與和聲的對比,聽起來易覺單調。但我小時候聽到的粵劇粵曲,表演者採用的定音並非西方古典音樂現在採用的定音,而演出時有很多修改自由,又常加震音、滑音裝飾音等等,出色的演出者會把音樂再創造使成為自己的腔。我寫這曲時,西方古典音樂演奏家多沒有把音樂再創造的觀念,而鋼琴用五音調尤其受到定音限制,只能用持續踏板和長踏板使所有琴弦同振動,產生似水彩的混音色,增加點變化。通常演出鋼琴二重奏會用兩架儘量相似的鋼琴,使聽起來合而為一似的。但我這首两重奏卻歡迎用兩架聽起來音色不相似的鋼琴,使雖然同是彈五音調聽起來色彩會豐富一點,和增加對比。亦欢迎將樂譜作為原型來再創作,自由改變節奏、速度、表情...表達你的個人音樂思潮。我會很高興聽到你演繹的錄音。
NEW: Scroll down to see upload 4 March 2020
WISDOM AND LOVE for voice and guitar
4月3日新樂譜 在最下面
《智慧與愛》男或女高音和結他
Intervals for String Quartet
When I visited the Korean composer Isang Yun in Berlin, he thought my interest in breaking barriers and electro-acoustic music dangerous, yet he liked this string quartet called Intervals. A long time ago, I showed the score briefly to Irvine Arditti of Arditti Quartet when he visited me, yet somehow I wasn't completely happy with it and I never sent the score to any quartet. Recently I think I finally understand why - the order of the movements should be reversed. So I have uploaded this, and would be happy for any quartet to perform it, and leave the order of the movements at their discretion.
Please use CONTACT if instead of downloading the PDF score, you prefer printed score and parts. I would be delighted to listen to a recording of your performance.
在藍框內的《音程》四重奏樂譜封面,你會見到左邊有𠃊型的圖案裝飾,這代表《音程》第三樂章的音樂,我是先畫了這𠃊型圖案裝飾,然後寫音樂闡釋這圖案的,而這短篇室樂被英國的新音樂促進會選出在其工作室試演,後來我再把這擴展,加寫了第一和第二樂章。我去柏林探訪韓國作曲家尹伊桑時,他喜歡我這《音程》的四重奏。很奇怪的,我一直不願意讓這作品演出,最近才明白何故:其實樂章次序應該是反向的。現在我歡迎任何提琴四重奏演出這作品,由你自行決定樂章的次序,若有演出的錄音,請讓我聽聽。
The decorative L shaped strip on the cover of the score (see PDF file on left) represents the sound of the 3rd movement : dot = pizzicato; slash = glissando; straight line = long note. This was written at a time when I was interested in graphic music. I drew the decorative L shaped strip first then used notation to interpret the drawing. I actually wrote the 3rd movement first, and it was chosen by SPNM (The Society for the Promotion of New Music) for its workshop in York (can't remember when). A Dutch quartet tried it at the workshop and liked it. Later I expanded this idea to write the 1st and 2nd movements.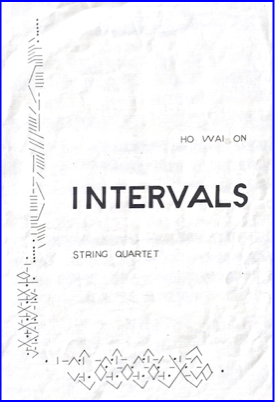 Wisdom and Love for Voice and Guitar
《智慧與愛》男或女高音和結他,點击右下進入視頻有中文資料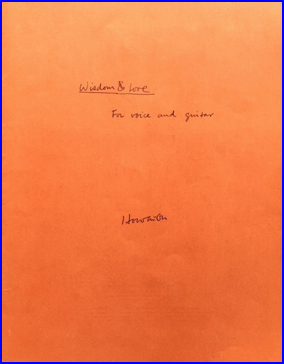 I have made a music video of this piece, to see it and for more information about the music click the following icon: