Benson Wong for Me 王玉泉為我設計
Portraits of Me and Designs for Me 畫我和為我設計
Portraits of Ho Wai-On 何蕙安畫像
1. Drawing of Ho Wai-On by Toby Man 文傳𤩹畫何蕙安
— both are alumni of Hong Kong True Light Middle School
我與文傳𤩹同為香港真光中學校友
2. Polly Hope painted my portrait in exchange for a piece of music, click to see the score 点击可是乐谱. 英國藝術家何宝莉為我畫像交換我為她作一首曲
More to come...
Click each image to enlarge. 单击每个图像放大
A musical notation inspired movable diamond pendant
for Ho Wai-On by Benson Wong (Belford Jewellery HK)
王玉泉(香港百福珠寶)為何蕙安設計活動音樂鑚石墜
Many "contemporary music" composers use 'graphic notation' – non-traditional symbols to convey information about the performance of a piece of music. I showed a number of these to my old friend Benson Wong as design inspiration and also told him my interest in kinetic art. Benson liked the "cyclic group" symbol. The result is a movable diamond pendant. I like the design very much.
當代音樂作曲家頗有使用非傳統符號來表達音樂該如何演奏,我選了幾個這種符號給老友王玉泉作為設計靈感,又告之我喜歡動力學藝術。他用"循環群"符號設計了這能動的鑽石墜,我十分喜歡。
There is a joint at each diamond so the shape can change as you move and any one can be at the top where the necklace threads through. The following are only a few variations –- there can be more. Click each image to enlarge.
每顆鑽石都鑲在活動的關節,形狀可隨著移動改變,任何一顆都可以讓頸鏈穿過。以下是一些變動型態 – 可以有更多的。单击每个图像放大。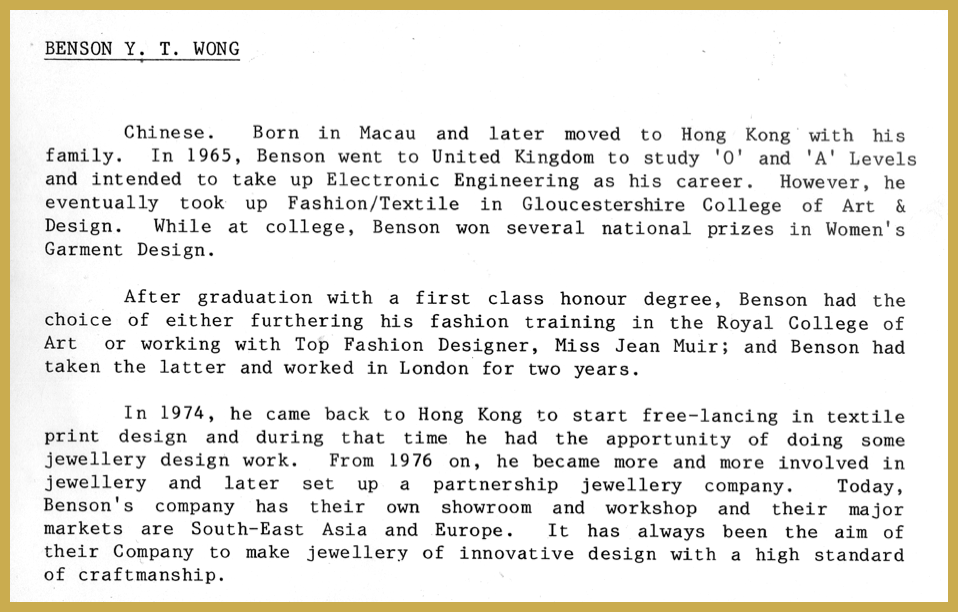 王玉泉在澳門出生,居於香港,曾在英國讀書和攻讀時裝和紡織品設計,成績優異和得奬,並跟隨英國著名服裝設計家工作。回港後從事多項設計工作,並專注珠寶首飾設計,有其個人展覽室和工作室,其公司市場及至東南亞和歐洲,注重創新、高品質和靚手工。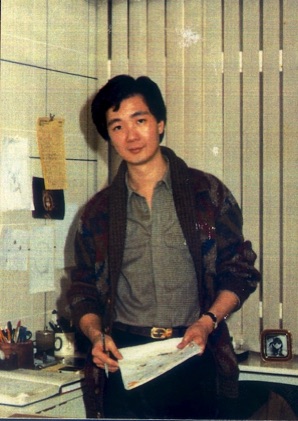 New 21 Aug 2019 I met Benson Wong through a mutual friend when I was working on a concert sponsored by the Hong Kong Urban Council entirely of my works a long time ago (see Metamorphosis). Over the years, though he lives in Hong Kong and I live in England, we kept in touch. In my Inter Artes project Theme Hong Kong, he was one of the Hong Kong artists I featured in the related exhibition in London。很多年前我在香港籌備市政局贊助的《何蕙安個人音樂會》時,真光舊同學鄭秋薇介紹我認識很有才華的首飾設計家王玉泉,之後彼此保持聯絡。我在通藝創作和演出項目《香港做主題》的倫敦相關展覽有介紹一些他的珠寶首飾設計的圖片