A Festive Puzzle – Can you get all 9 carols within one minute?
MINUTE-CAROLS 聖誕歌什錦
你能在一分鐘內認出這九首聖誕歌嗎?
THE WAVES : Melody waltzing with waterfowl
《浪》旋律舞水禽 鋼琴: 鄧兆楷 piano Albert Tang (Albert studied with Peter Katin)
The following two videos were taken at Hyde Hall – one of the four Royal Horticultural gardens. 以下兩個視頻在英國皇家園藝花園拍攝
I mingled fragments from the following nine Christmas carols that I have sung – some more obvious but some more subtly hidden in the middle part – resulting in this synthesized Minute-Carol. Spot them all while enjoying Essex's Hyde Hall with occasional mini Christmas Trees!
我把以下九首我和很多人都曾唱過的聖誕歌的片段合成為一首長約一分鐘的《聖誕歌什錦》,想邊看這英國名園和其中應節的迷你聖誕樹,邊聽這些若隱若現的旋律也頗有樂趣的。
1. Ding Dong Merrily on High 叮噹!來自天上的喜悅
2. God Rest You Merry Gentlemen 天賜喜樂
3. Silent Night and its alto part 平安夜
4. Joy to the World 普世歡騰
5. O Little Town of Bethlehem (by L H Redner – I include the opening lyrics as there is another carol with similar name)
O little town of Bethlehem
How still we see thee lie
Above thy deep and dreamless sleep
The silent stars go by…
6. O Come All Ye Faithful 齊來崇拜
7. A Great and Mighty Wonder 救主降生
8. Hark the Herald Angels Sing 聽啊!天使高聲歌唱
9. Good Christian Men Rejoice 信徒歡唱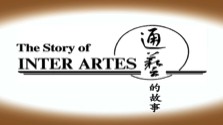 To see the video "The Story of Inter Artes "
please click Inter Artes
點擊以上藍字看《通藝的故事》
Scroll down for 10 Jan NEW video "BLESSED AMENDED FINAL"
Can you spot the differences of all three versions of BLESSED?
1月10日新視頻《有福 再修正版》在頁尾,三個《有福》 版本各有不同
BLESSED with Season's Greetings《有福》原版
6 Jan 1月6日 BLESSED AMENDED《有福 修正版》
Binah Elvan sings the Beatitudes, with images taken at St Andrew's — BLESSED the music video is to thank God's blessing, and as Canon Jane Freeman's retirement gift from me. However, due to health, circumstances and Xmas deadline, there are blemishes in the original. I made BLESSES AMENDED for the New Year. Then I made BLESSED AMENDED FINAL.
這是兩位身體都不很好的皇家音樂學院校友以音樂敘舊,她唱七福我伴奏,配上我拍攝聖安德鲁教堂的型像,是手術後的感恩,亦作為我送给教會牧師她退休的礼物。希望修正版和再俢正版比原版少些瑕疵。
New 新 10 Jan 1月10日 BLESSED AMENDED FINAL
《有福 再修正版》
This can also be viewed on Vimeo https://vimeo.com/383497980
CAN YOU SPOT THE DIFFERENCES?
Blessed, Blessed Amended and Blessed Amended Final
These three versions sound and look slightly different to each other.
你能看到和聽到以下《有福》三個版本不同的地方嗎?